11 Tips for Strange Loop First-Timers
First Time going to Strange Loop? Me too! In preparation for Strange Loop next week I gathered advice from around the Spantree office, and put it into one handy list. If this is your first time going to the conference or your ninth, I hope you find some great ideas for how to maximize your conference this year.
It is appropriate to open this post by explaining that I am a self-described conference junkie (see the bio blurb below). For the past couple of years, I found out Strange Loop tickets are on sale the day after they sell out. The result is that I have been experiencing Strange Loop via Youtube, which while amazing, is not quite enough to get my fix. This year I'm about to get my chance, since Spantree will be at Strange Loop! Having only ever experienced it through a screen, it always seems like this magical event where the speakers and attendees are on another level. In some ways the conference is intimidating, which I know is silly, but bear with me. For my first year, I want to make the most of the event, but you never know what you don't know until it's too late.
With that in mind, I was googling around for advice, until the answer showed up on my screen for a pairing session. At work, whenever I feel like I'm about to be out of my technical depth, I turn to my colleagues. I know I can count on them for incredible advice and guidance in technology, so why not ask them for advice about Strange Loop? After getting a bunch of responses from my teammates I decided I should make life easier on fellow first-time Strange Loopers like myself. Without further ado, here are some things you should know to maximize your time at Strange Loop!
Corporeal Consultations
We're all human, here is some advice to keep your body in prime condition!
1. Make Time to Rest
"Being bombarded with new information for hours at a time is exhausting. Make use of quiet rooms, your hotel room, or walks around St. Louis to help cope with it all." - Jonathan
2. Enjoy the Local Cuisine
"This year, Strange Loop overlaps with Q in the Lou, a weekend long barbecue festival with great music and plenty to eat. While St. Louis is known for barbeque, there are a few other foods that everyone should try. Head to Imo's, a short walk from the conference, and dig into some St. Louis-style pizza with one-of-a-kind Provel cheese. Finish it up with some toasted ravioli, all meat and fried bread. Finally, make sure to grab some gooey butter cake while you're in town!" - Kevin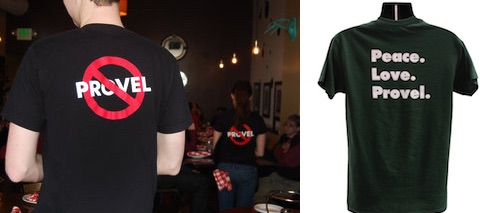 Opinions, like the cheese, are mixed.
3. Dine Out, Strange Loop Style
"Check out the conversation in the Strange Loop Slack #food channel or the crowd-sourced list on the StrangeLoop Wiki" - Andy
4. Bring Padding
"The City Museum is a wonderful place, but crawling around in a bunch of metal tubes for hours at a time can be rough on the knees and elbows. Walking up and down the stairs of the Peabody Opera House with sore joints is no fun. If you happen to have kneepads lying around the house, be sure to throw them in your bag just in case. Heavy socks also work." - Cedric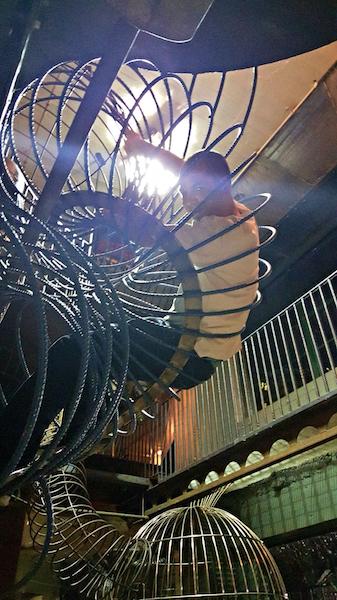 Andy getting comfy at City Museum
Seasoned Suggestions
Here are some not-so-obvious pieces of advice for first timers.
5. Don't Skip the Preconference
"Some of the best things I've seen at Strangeloop have been in the Thursday workshop sessions. Jerome Petazzoni's Docker orchestration workshop in 2015, and Eliana Lorch's deep learning visualization workshop in 2016 were especially memorable." - Richard
6. Check out the Hallway Track
"Don't be afraid to talk to people about what just happened, even if it means you miss some/all of the next talk. It's a great way to digest and contextualize what happened in the last talk." - Jonathan
7. Warm Up Your Singing Voice
"If the tradition holds true this year, O'Reilly gives away books the very last day in exchange for a song, so come ready to sing!" - Cedric
8. Leave Your Imposter Syndrome at Home
"I remember being way out of my depth when listening to Rich Hickey talk about transducers. That's OK, though. You're going to get exposed to a ton of new information and it can feel like imposter syndrome on steroids, but everyone is feeling some of that. Don't worry :)" - Jonathan
9. Do Not Disturb
"Leave a Do Not Disturb sign outside your room if you are staying in a hotel. Sometimes the hotel staff might throw away your memorabilia while cleaning your room." - Roberto
Logistical Lessons
Going with a group? Not going with a group? Here are some handy tips for finding people, whether they came with you or not!
10. Connect with People
"Join the Strange Loop Slack." - Roberto
11. Plan for a Rendezvous Point after City Museum
"If you travel with a group to City Museum, set up a rendezvous point for afterward. It's very easy to wander off or get separated from the group." - Andy
See You There!
Well, I'm beginning to feel prepared, and I hope you are too! If you see me at Strange Loop, say hi or shoot me a tweet!